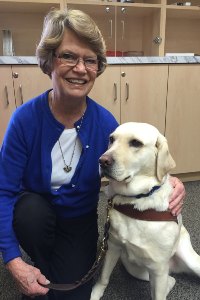 Judy Borushok
Board Member
Judy Borushok worked at the Saint Agnes Medical Center foundation office and volunteer services offices for 17 years. In her last 7 years there, she held the position of Director of the Foundation and Volunteer Services. Judy was encouraged to join the knitting group at the Valley Center for the Blind. Later on, she was asked to be a member of the board and thankfully, she joined.
Interests: She enjoys traveling with her guide dog, knitting group, gardening, shopping, and being a member of the board.
Thank You!
---
Focusing on improving and enhancing the lives of people with vision loss. We thank you for every dollar donated.