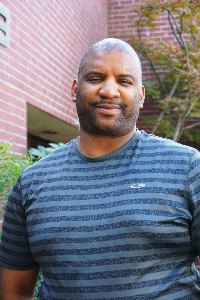 Kenneth Clausell
Position Title
Kenneth has been receiving services from VCB for about 12 years and is now sitting on the Board of Directors here. Around age 16 he was diagnosed with a condition called Keratoconus which causes the cornea to bulge outward in a cone-like shape. By age 19 he needed his first of many corneal transplants. Kenneth went to Fresno State, has four children, one daughter, age 22, and 3 sons whose ages range from 7 to 17.
He worked for Aetna Insurance Company for 10 years, then Kenneth was licensed as an EMT. This was a prerequisite for applying to the Fire Academy which was a dream of his. He received the letter of acceptance but within a few short weeks his dreams were shattered when he lost his right eye in an unfortunate accident. Now with one eye which provided only partial sight, Kenneth completed the programs at VCB which has allowed him to be employed as an eligibility worker with Fresno County. He still loves to run and can do so by following a guide. He has completed marathons and even did a 3-mile mud run in Los Angeles. Kenneth still has goals and dreams and now he has the tools to achieve them while continuing to help others at the center.
Thank You!
---
Focusing on improving and enhancing the lives of people with vision loss. We thank you for every dollar donated.