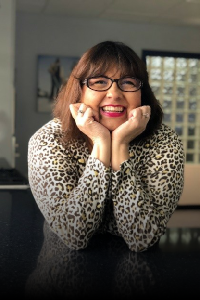 Janie Pena is an Independent Living Skills Instructor. She teaches daily routines, money management, organization skills and much more. She brings previous experience training employees, teaching at a vocational college, and customer service skills. She is also able to relate to her students because she is also blind (low vision).
When Janie became visually impaired, she found the Valley Center for the Blind and became a client. Her training in Independent Living Skills, Orientation and Mobility, and Assistive Technology helped her gain her independence once again. She decided to become an Independent Living Skills Instructor to give back and help others gain their independence.
Interesting Fact: Before she became visually impaired, Janie worked in the veterinary field for nearly 30 years as a registered veterinary technician.
Thank You!
---
Focusing on improving and enhancing the lives of people with vision loss. We thank you for every dollar donated.