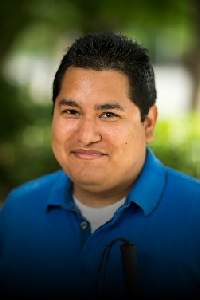 Reynaldo Villarreal
Industry Manager
A-T Instructor
Reynaldo Villarreal is an Assistive Technology Instructor. He teaches visually impaired individuals how to use technology like computers, tablets and other types of assistive technology. He brings over 10 years of technology experience and specializes in Low Vision Technology and Apple products.
As a child, Reynaldo was diagnosed with Retinitis Pigmentosa (RP), an eye disease in which the back wall of the eye (retina) is damaged. As the only visually impaired person in his family, he is able to relate to many VCB clients taking these courses to learn to live independently. He chose to be involved with VCB because the agency has provided so much help in his personal journey as someone who is visually impaired. He wanted to help other people who are visually impaired and be an inspiration to them as others have been to him.
Interests: He enjoys technology, traveling, and doing outdoor activities with his wife and young son.
Thank You!
---
Focusing on improving and enhancing the lives of people with vision loss. We thank you for every dollar donated.