OUR VISION
Valley Center for the Blind will continue to be the leading non-profit organization in the Central Valley by pursuing outstanding training and necessary education for persons who are blind and visually impaired. It is our plan to grow to give our clients a place to connect, communicate and receive support to better their opportunities. We intend to reach out to our local community to develop awareness and provide education regarding blindness and related health issues.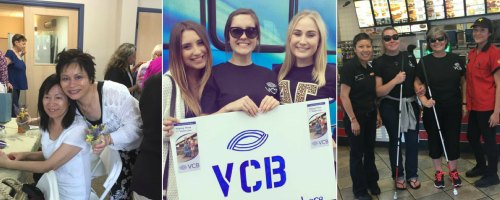 OUR VALUES
We take blindness personally: Our team not only has a heart for people with visual impairments, many have experienced vision loss themselves. We believe that there is extraordinary value in connecting with those with similar experiences and our compassionate staff are here to help you every step of the way.
We are driven to change lives: Every journey starts with a single step. At VCB, we believe your journey begins with your personal needs and goals. By setting and reaching personalized objectives, we help clients take true steps towards their bright futures
We pursue excellence: We are passionate about continuous improvement and finding new, innovative ways to increase service value and available opportunities for people with visual impairments.
We have fun: So often, life with vision loss can seem a significant barrier which can be disheartening. At VCB, we are joyfully confident that vision loss doesn't have to mean loss of independence.
Thank You!
---
Focusing on improving and enhancing the lives of people with vision loss. We thank you for every dollar donated.