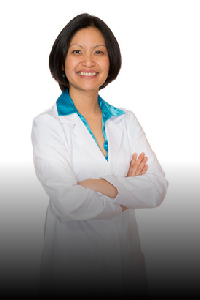 Kim Vuong
Board Secretary
Dr. Kim N. Vuong is a low vision specialist. She received her Bachelor's degree at UC Berkeley and received her Doctorate of Optometry at the UC Berkeley School of Optometry. Kim completed her low vision residency in Tucson Arizona within the VA system. She completed a research fellowship with an emphasis in Low Vision and Macular Degeneration at Boston, MA within the VA system. When she moved to the Central Valley, she noticed the resources for her visually impaired patients are not as plentiful as they would be in the Bay Area or Boston. She wanted to invest her time and experience to help the VCB grow and serve the visually impaired community in the Central Valley. She is proud to see what it has become in the last five years and hopes that it continues to group and remain available for those who need it most.
Interests: She likes to go on bike rides around town with her husband, son, and dog. She loves hiking in national parks, especially Yosemite. Kim also loves gelato, as she used to make it at a gelato shop in optometry school.
Thank You!
---
Focusing on improving and enhancing the lives of people with vision loss. We thank you for every dollar donated.