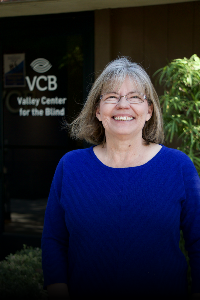 Jaime Gibson-Barrows
Employment Specialist
Jamie Gibson-Barrows is an Independent Living Skills Instructor. She trains blind and low vision clients to maintain or regain independence in everyday living activities such as cooking, cleaning, finance, advocacy and more. Before she retired from her previous job of 28 years, she gained experience and skills such as customer service, sales, corporate officework, and management. A few years after she began working there, she was diagnosed with Retinitis Pigmentosa. After retiring from there in 2015, she became a client at VCB and attended our classes.
During her career and journey with vision loss Jamie was like so many others she met at VCB, living with vision loss alone. That drove her to give back and help those who are on the journey with living without sight and to provide hope in what seemed hopeless before they walk into the doors of VCB. Jamie's passion for educating and advocating for the Blind Community is evident outside of the office as she is the Vice President of the California Council of the Blind Fresno Chapter.
 Interests: Jamie enjoys the outdoors, fishing, and camping. She participated in a 26-mile marathon with Project Athena Foundation in 2018 Cove to Harbor San Diego.
Thank You!
---
Focusing on improving and enhancing the lives of people with vision loss. We thank you for every dollar donated.